Hi there, I'm Ashley, Jim & Terri's oldest kid. While I'm not currently planning a wedding, DIY or otherwise, they've asked me to contribute a post anyway, on a topic much nearer and dearer to my heart: Pinterest. 
If you're not familiar with it, Pinterest is a social bookmarking site, and one of the fastest growing social networks on the web. It's a bit like a virtual bulletin board that allows you to "pin" images you find online, using an easy to install button on your browser. You can follow friends, as well as brands, bloggers, and other influencers, and repin the things they like. Sign up is free and simple, requiring just an email address or linking to an existing Facebook or Twitter account.
Pinterest has become particularly popular with women, and pins tend to fall into themes like food, fashion, crafts and DIY, interior design, and yes, weddings. While there are certainly male users, as well as many other categories of pins, these are by far the most popular, so if you're not interested in these topics, you may not "get" Pinterest or think it all sounds a bit silly.
Still, it's actually a remarkably useful tool (albeit slightly addictive). Pinterest is particularly great for planning events and projects, finding all sorts of ideas and inspiration, and just remembering things you see online. For these reasons, it's quickly become a favorite resource for people planning weddings, especially DIY-ers. Here are 5 of the ways Pinterest can help you plan your DIY wedding.
Get Inspired
Whether you picture yourself tying the knot in a backyard wedding, barefoot on the beach, or at a more traditional affair, Pinterest makes it easy to find ideas for every style. It's also an amazing wedding planning resource for the DIY couple. From invitations, to homemade centerpieces, and gift ideas for your wedding party, there's no shortage of inspiration for the crafty, budget-conscious bride.
Not sure what you want? Pinterest can be great for helping you figure out your aesthetic. I'd attended the weddings of more than a few friends and seen photos of many more. While they were all lovely, none were what I'd consider my style. (This is in no way a criticism; a wedding is about the couple's tastes, not the guests.) But based on the weddings I'd seen, I wasn't convinced that they were really my thing. I figured maybe I'd just head to the courthouse when the time came.
It wasn't until I joined Pinterest that I started to see images of wedding décor, dresses and the like, that looked like what I would want for myself, and I started to come around to the idea of a more traditional wedding. So if you thought Pinterest was just for Bridezillas and women who've been planning their weddings since elementary school, you might be pleasantly surprised.
Follow the Experts
There are a number of great DIY wedding planning blogs and websites out there, and most of them are also on Pinterest.  The visual nature of Pinterest boards means you can easily see their best ideas without spending a lot of time reading through all of their posts, and you can save your favorite finds to refer to later. First, you should of course follow Blue Collar, Black Tie's Big Wedding board for our favorite DIY wedding inspiration. Then check out other favorites, like Green Wedding Shoes, Ruffled, 100 Layer Cake, and Style Me Pretty for gorgeous photos of real weddings and great DIY ideas. For those who prefer to buck tradition, Offbeat Bride is a must, with plenty of great DIY and unusual wedding ideas.
Collaborate
Pinterest allows you to invite others to pin on boards, as well as like and comment on pins. This makes it a perfect tool for soliciting opinions from friends and family and working with any vendors you do decide to hire. Pin your favorite dresses to make dress-shopping easier, or to show the person making your dress, if you go the DIY route, like my friend Jenn did.
Pin photos and poses you like to give your photographer an idea of what you're looking for, or cakes to show your baker (even if the baker is your mom!)  You can have as many boards as you want on Pinterest, so if one general wedding board isn't working for you, try creating separate boards for dresses, cakes, flowers, theme, and photography inspiration.
If you're going with the recent trend of letting bridesmaids pick their own dresses, use a group board to have everyone pin their favorites. That way you can see what everyone will be wearing in one place and make sure it all goes together nicely.
If your bridal party or family is spread out geographically, Pinterest can help to close that distance. Maybe your best friend or your mom can't physically be there when you try on dresses or visit venues – they can still be involved in the process via Pinterest.
Take it With You
Instead of printing out photos or clipping from magazines when you're out shopping for dresses and other wedding essentials, use Pinterest's free iOS and Android apps to refer to your inspiration boards. You can view and share pins on the go, and even snap pictures with your phone's camera to upload straight to your boards.
Keep it Secret
If you want there to be a few surprises at your wedding, consider making use of secret boards, which were introduced late last year. You can still invite select friends or family to see and pin to these boards if you like, without showing the world exactly what your wedding will look like before the big day. Certain looks and trends tend to go viral on Pinterest, so if you don't want to risk your friends using the same snarky program, mason jar centerpiece, or fingerprint guestbook idea that you loved, consider going with a secret board.
These boards are also great if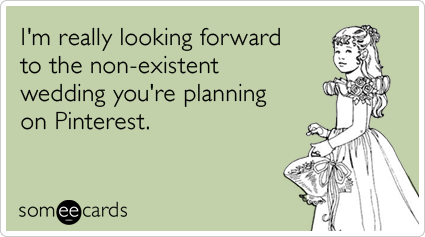 you (like me) don't actually have a real wedding in the works, but want to remember ideas you like for the future. Use a secret board so you don't a) have to answer even more questions about when you're finally going to "make it official" and b) don't end up on one of these crazy girlfriend lists.
Each user currently only gets three secret boards, so use them sparingly. Also, while you can make an existing secret board public, you can't make a public board secret. So if you already have a public wedding board and want to make it secret, you'll have to repin all those pins one by one (not that I did that. Nope, definitely not.)
 The Big Wedding….
Opens April 26.
Comments
comments